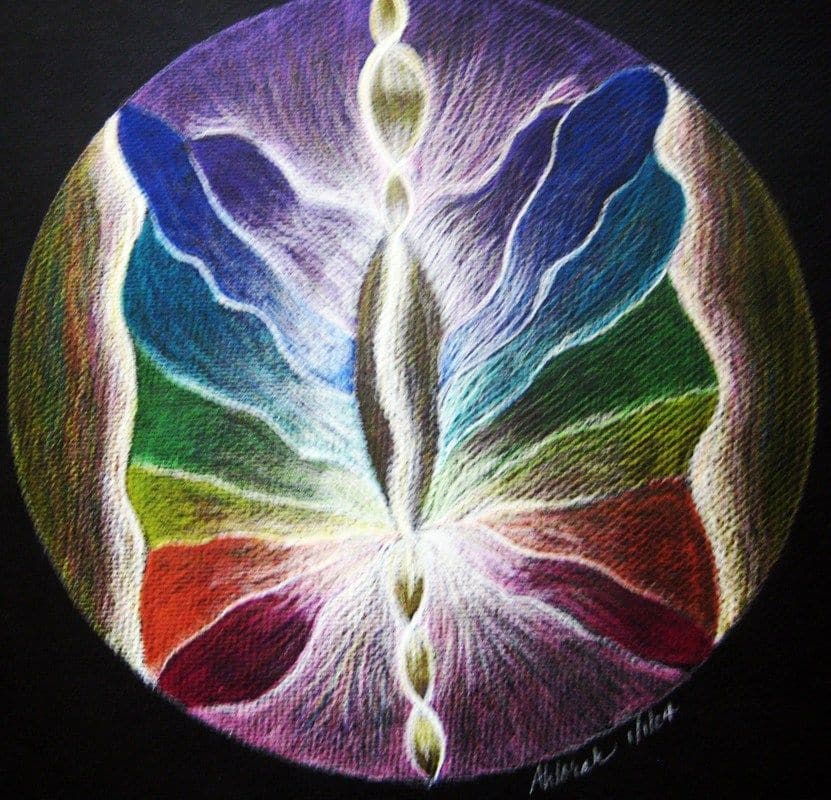 If you…
Have a transformational message and desire to make an impact on the world
Aren't sure what to wear that expresses your signature message
Wonder where to find the perfect outfit that makes you feel powerful
Let's Talk!
Email me for a 30-45 minute "Let's Connect" Session. We'll explore the impact of color and design on your audiences and what your biggest challenges are, with the aim of determining how to best express the impact of your signature message through your clothing. Scroll to bottom for more information.
Carol Lorraine Designs presents custom Soul Silks™.
These unique healing Soul Scarves and jackets can be included in a Soul Purpose Reading or designed on their own. The synergistic healing properties of the colors and sacred geometry will magnify your life purpose. You will feel confidently grounded in your true nature when wearing your Soul Silk Scarf or Jacket. The qualities of your purpose will be imbued in your scarf through a special empowerment ritual we will do together.
Here's how it works:  After an initial consultation, either by phone or in person, and a personal questionnaire, I intuit the colors and patterns that reflect your soul's essence, conceiving each piece from a place deep within that is in direct contact with All That Is. You will never see another person on the planet with your unique design.
These one-of-a-kind wearable works of art can be worn for special occasions, speaking engagements, workshop facilitation, or any occasion that calls for celebration. They can be used as altar cloths or hung on the wall or on the back of your chair for support.
I will guide you through The Empowered Woman Ritual with your silk so you will feel alive, sparkling, empowered and all of who you are when you wear your very own Soul Silk.™
"Carol, Your work embodies the Divine Feminine. With the flowing grace of the silks and the abundance of the colorful rainbow, you share with women how to flow with their power in a graceful manner. Your silks capture the essence of the high visionary with creativity, color, grace, and inspiration." Teresa Surya Ma McKee
"I am thrilled to receive the original creative "Gentle Beauty" scarf by Carol as a present from you. It is such beautiful fabric in all the colors that you and I enjoy so much and the design is outstanding. Oh, those lilac and purple tones are something. Never in my life have I ever owned anything so luxurious. Thank you so much! Love always." Grandma Rosie
"Luscious lovely designs and colors. Your joy shines through!" Janet Doane Golden Leaf Galleries, WA
"Yes, yes my silk wall hanging has arrived and it is beautiful! I'm excited to have such a special piece to grace the walls of my healing room. It's the first thing I've bought for my space and it feels just perfect. Thank you for your work, your special gifts and sharing them with me." Gail Feinstein Bellevue, WA
"The Butterfly Jacket arrived today and I'm just delighted. You did a lovely job of matching the colors. Can't wait to wear it to the wedding! Thanks so much for the very special garment." Diane Nielen Fullerton, CA
"The kimono arrived ON my birthday!! 🙂 🙂 It's Beautiful, and I feel Beautiful in it. Thank you, thank you, thank you!" Lauralyn Levi
"Your 'Inspired Communication' silk scarf is a bit of magic. It's so pretty; I twirled around just so I could see it flutter in the air. I draped it around my shoulders and decided it will go with everything, so I'm going to wear it all day tomorrow with jeans. Thanks!! I love it!" Susan Thomas, Oakland, CA